Here's a trivia question for you: which footballers have played for three different national teams? Alfredo Di Stefano's a fairly obvious one, but after him it all gets a bit tricky. The answer I'm looking for from this poorly judged introduction is something of a trick: one Mr Aleksandr Mostovoi represented three national teams in his playing career – the Soviet Union, the Commonwealth of Independent States and Russia – each following a different chapter of his homeland's history, making him an interesting look at the changing face of Russian football.
Mostovoi started his career at second division Presnya Moscow, then known as Krasnaya Presnya, under the stewardship of the great Oleg Romantsev before quickly being spotted by Spartak Moscow. In his first season at the club, he won the Soviet Top League and carried on in this vein, transforming from a potential star to the driving force of the krasno-belye.
In 1992, Mostovoi became part of the new generation of players able to play abroad, joining up with his compatriot Vasili Kulkov at Benfica, who he had played alongside for Presnya and Spartak. Until then, Soviet players had struggled to leave, but the breakdown of the union saw the regulations relax. However, things didn't work out for him at the Portuguese giants.
"I took to the Mediterranean way of life easily enough," claimed Mostovoi "but it is hard to be suddenly so free and alone when I had grown up close to my family and within the tight control of the Soviet system. All of a sudden we were young stars with money, and no one to tell us what and what not to do. Not everyone coped with it equally well, and around me I saw young players waste their careers and in some cases their lives." Sven Goran Eriksson, the coach who brought him to Benfica, left just as Mostovoi became available and he didn't fit in with his new manager Tomislav Ivic's plans. Tired of sitting on the bench, he began to look for a new club, determined to leave even after Ivic left. Eventually, he got his move, moving to French club Caen before, after a single season, switching with manager Daniel Jeandupeux to RC Strasbourg.
It was in Alsace that Mostovoi began to get his career back on track. With him pulling the midfield strings, Strasbourg got into the UEFA Cup by winning the Intertoto and reached the final of the Coupe de France. His performances earned comparisons with Michel Platini and bigger suitors from France, Spain and Germany, which would prove to be the end of his time in France. Club president Rolland Weller promised Mostovoi he would allow him to leave if the price was right, only to elevate his price to unrealistic levels – the Russian found out about this and argued with him, demanding his move, but by the end of this most of the interested clubs had looked elsewhere, leaving only Celta Vigo, then of lower standing than Strasbourg. Despite his blusterous exit, Strasbourg fans decided he had done enough in his two year stay to be voted their player of the century in 2006.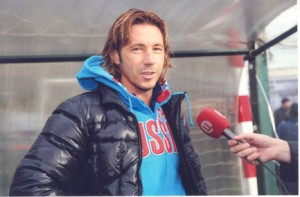 At first the move to Celta looked like another Iberian nightmare for Mostovoi; the move had been a backwards step to a club settled in the bottom half of La Liga. Initially his teammates didn't read his play, resulting in a 16th placed finish, but the next season in came Basque manager Javier Irureta and things began to look up for Celta and Mostovoi. They finished 6th and, despite Irureta's exit before the next season, stayed in this sort of position until 2002/03 when they finished 4th, finally qualifying for the Champions League. By then, Mostovoi became "El Zar" in the eyes of the Balaidos faithful; the seemingly never-ending dribbles in the tightest of spaces, the perfectly weighted volleys and the squeezed through balls.
With the solid if unspectacular supporting cast of compatriot Valery Karpin, Claude Makelele, Catanha, Michel Salgado, Juanfran, Sylvinho, Pablo Cavallero and Peter Luccin, Mostovoi had ensured Celta were one of the mainstays at the top of La Liga. "When I arrived Celta was still a bit of a provincial club," he said. "The first year was tough and although ambitious, Celta wasn't yet fully prepared for its assault on the Spanish league table. But things improved, especially with the arrival of coach Javier Irureta. He brought a sense of purpose and professionalism with him that would transform Celta into an ever-improving side."
The Champions League place was a reward for all their hard work, but the 2003/04 season would not be a good one for Mostovoi or Celta. They managed to get past the group stage, losing to Arsenal in the last sixteen, but domestically they floundered, finishing an abysmal 19th. Meanwhile Mostovoi sat out large chunks of the season injured, his age finally catching up with him.
Things only got worse for Mostovoi over the summer, being sent home from Euro 2004 for criticising manager Georgi Yartsev over his training methods, meaning the playmaker retired from international football without ever winning a game at a major tournament.
After a period of eight months out, Mostovoi signed for Alaves until the end of the 2004-05 season. He made just one appearance, scoring a goal after coming on as a 78th minute substitute, before announcing his plans to retire after just 30 days because of back problems.
His retirement from playing isn't the last we'll see of Mostovoi though: "I enjoy a peaceful life with my family, but one day I would like to return to football, perhaps in a coaching capacity. The problem is that I never played in the Russian league, so I have no sponsor and few of the contacts needed to open doors. Luckily the league is becoming more and more professional and open, so you never know; maybe Mostovoi the player will still become Mostovoi the coach. It would be a great way to complete a career in football." With the 2018 World Cup going to Russia perhaps we'll be seeing Mostovoi the coach sooner rather than later.