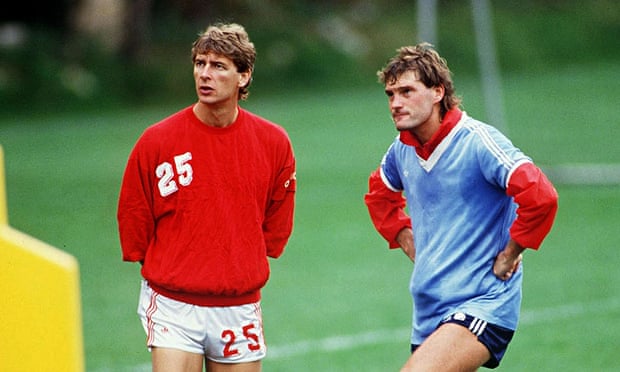 Having now spent over two decades in North London, Arsene Wenger's name has become so synonymous with Arsenal that it's easy to forget that he spent over a decade coaching in his native France and Japan before reaching the Premier League.
With his popularity waning, everyone fully aware of what you can expect from Arsenal under his guidance, it is perhaps a good time to look back to what got him the job despite being a mystery in England – his time in a principality on the South coast of France in the eighties.
As his mediocre playing career drew to a close, Wenger had already moved onto a career in coaching – avoiding celebrations when Strasbourg won the league as he was preoccupied with the youth team. Jean-Marc Guillou convinced him to join him as his assistant at Cannes and in 1984 he was given a shot as a head coach at a Division 1 club by Nancy. He had few resources but managed to finish mid-table, poring over footage to analyse, moving smartly in the transfer market, and improving his team's fitness with a dietician and pre-seasons in the French Alps. They fell away in his second season, narrowly avoiding relegation by winning a play-off against Mulhouse, before finally succumbing to relegation the next year as several players were sold.
Despite the setback, one of the league's biggest clubs had seen enough in Wenger to give him an opportunity. Monaco had entered talks with Nancy the summer before, however it wasn't until 1987 that Wenger would be allowed to move to the city-state. The change gave Wenger more freedom in the transfer market, bringing in Glenn Hoddle, Mark Hateley and Patrick Battiston at the start of his tenure, while also looking to bring youngsters up from the B team – Patrick Valery the first to make the step up.
Nevertheless, questions were asked of his appointment: how was the man who had just taken Nancy down meant to improve Monaco's lot? "The choice surprised us a little bit as players," remembers Jean-Luc Ettori. "He had come from a club that been relegated. But after a fortnight we understood why he was there, that he was the man we needed."
"He was tall and imposing, which helped, but he could command a room without raising his voice," Claude Puel said. "He always had that natural authority. He was the first manager I worked under who did specific tactical training, painstakingly going over video footage in preparation. He worked around the clock, constantly preparing the next session or reviewing the drills he'd put us through that day."
Wenger again spent his days analysing videos then putting this preparation into practice on the training ground. Just like at Nancy, he looked to make gains off the field, bringing in physiotherapists and adapting diets. "We had masseurs," Hoddle recalls. "I had never had a massage at Tottenham. Players would have said you were soft. But over the months, we became more supple and, with a better diet, I was soon fitter than I had ever been."
An admiration for the Dutch Total Football sides meant he occasionally dabbled in a 4-3-3, however Wenger mostly set up Monaco in a 4-4-2, believing it was the formation that covered the dimensions of the football pitch most effectively. His interpretation involved playing a number ten behind an out-and-out striker, which would often be recognised as a 4-2-3-1 today, rather than using dual number nines leading the line.
Much like Arsenal later, Monaco's existing strengths were in defence, although more work needed to be done on it. Goalkeeper Jean-Luc Ettori and full-back Manuel Amoros were stand-out players, while Patrick Battiston and Remy Vogel were both signed to shore up the centre. Claude Puel was initially left out, offering little attacking threat, but soon gained a spot to win the ball for Hoddle in an otherwise attacking midfield.
"As soon as you had a problem with the ball, you gave it to Glenn," says Puel. "In England, where it was the era of the long ball, he had been a bit misunderstood. In France the game was more suited to him and he had three extraordinary years at Monaco. It was him who organised everything, who made all the difference."
"For us Glenn was le bon dieu – he was a god," Ettori claims. "He was the star but didn't have the caprices of a star. For me, the time he was in France, he was the best player in the world."
"We would get the ball forward quickly to Glenn," recalls Hateley. "We didn't want him to come out the centre circle or into his own half. He would either find me or the wide players and then the ball would be played into me and he would support me or I would take the chance. We terrorised everybody we played against."
Hateley found the French defenders a touch easier to compete with than what he had gone up against in Milan. "He was the typical English striker," says Ettori. "A force of nature, an animal, afraid of nothing. French defences weren't used to someone so combative, so tough. When you think of a tough player you think of a defender. But he was tough – tough on others, tough on himself. He pulled us along in our energy. And he had an English spirit: always winning. In France you win at home and try not to lose away. He and Glenn wanted to win all the time."
Monaco's gameplan essentially amounted to getting the ball to playmaker Hoddle, who could then use his passing range to pick out Amoros running up and down the flank from full-back, dribbling winger Youssouf Fofana or drop a ball onto the head of target man Hateley, supported by Jean-Marc Ferratge. It proved to be very successful – Hateley finishing as second top scorer behind Jean-Pierre Papin as Monaco won the league in Wenger's first season in charge.
Papin would prove to be a thorn in Wenger's side though – despite coming sixth when Monaco won the league, Marseille dominated for the duration of his tenure, winning five league titles in a row. With a far bigger fanbase and more financial clout, no matter what improvements Wenger made to his squad their rivals on the coast seemed to be one step ahead. Enzo Francescoli, Chris Waddle, Didier Deschamps, Basile Boli, Marcel Desailly, Rudi Voller, Dragan Stojkovic, Alen Boksic, Abedi Pele, Eric Cantona and Paulo Futre all lined up in the blue and white of Marseille, as well as Bruno Germain and Eric di Meco, who Wenger had nurtured at Nancy.
The rivalry between the clubs became so heated that Wenger and Marseille president Bernard Tapie came close to blows on multiple occasions. "It was war to the death between them," said Jean Petit. The brash Tapie would publicly complain about Monaco benefiting from tax loopholes all while poaching Monaco's players – Amoros jumped ship in 1989 and Rui Barros followed in 1993, having spent three seasons in the principality. Wenger had managed to convince their midfielder Franck Suazee to join them the year after Amoros had left, but he spent just a year at Monaco before going back to Marseille.
When Hateley suffered a bad injury early on in their championship defence, he brought in young forward George Weah from Cameroonian club Tonnerre Yaounde. The Liberian future Ballon d'Or winner had the goalscoring prowess to replace Hateley, but the speed and close control to comfortably play on the wings if necessary.
Luc Sonor gradually replaced Vogel as the partner for Battiston the same season and Patrick Valery secured a starting berth at full-back, while a teenage Emmanuel Petit made the step up to the first team, capable of playing in midfield or across the backline. Jose Toure and Fabrice Poullain also added creative and defensive depth respectively to the midfield.
The physically imposing Roger Mendy was signed to replace Battiston, who returned to Bordeaux in 1991, while Lilian Thuram, who would go on to become arguably France's greatest ever defender, made the step up from the youth side, as did Gilles Grimandi later. Ramon Diaz and then Jurgen Klinsmann (one of the few players to fall out with the manager) were brought in to lead the line, while Toure and Ferratge were upgraded upon, Wenger bringing in Rui Barros and Youri Djorkaeff to play off the striker. When Hoddle finally returned to England, he was replaced by Belgian playmaker Enzo Scifo.
The squad changed often and there was a huge variety of skillsets on display at Monaco, yet the overall structure of the team remained the same: Wenger essentially giving his players the organisation to ensure they weren't a chaotic mess, but the individual freedom to solve problems using their own abilities. "He likes you to express yourself," says Scifo. "That's his asset. He is very insistent about the team keeping its shape. The most important thing is to have a foundation on the pitch. But then he gives a lot of freedom to the players. In the end, he likes football. He doesn't neglect the artistic side. He has married efficiency to spectacle. He picks players who can put on a show."
The ever-loyal Ettori was short for a goalkeeper, yet agile and strong in one-on-one situations, which was useful as the back four played a high line that risked leaving him isolated. The centre-backs were required to be quick and physically strong to defend the large space they left behind them, and had to win their individual defensive duels as they could be left fairly exposed due to the full-backs pushing high up the pitch.
They were also expected to be technically proficient, with Wenger often moving more attacking players into the backline just as he had at Nancy – for instance, Thuram started his career as a winger. This confidence in striding up the pitch with the ball often freed up their teammates in midfield, as the opposition had to stop them from dribbling into their half unopposed or finding an attacker with a pinpoint pass. With the full-backs slightly higher, the centre-backs were frequently able to form a triangle with the full-back on their side and the centre-midfielder, so that when the  opposition player went to close them down, the ball could be played quickly out to the full-back then back inside to the midfielder, taking the defending player out of the game and moving the ball up the pitch.
The importance of the full-backs' technical ability was even greater, as they were expected to push high up the pitch and provide the width, with the wingers tucking inside. A mixture of quick, neat dribblers like Fofana and more box-to-box players like Marcel Dib, they could either tuck in alongside the creative supporting players like Djorkaeff and Barros, outnumbering the opposition in the centre for quick passing combinations, or run beyond the defence with the striker, pushing the defensive line back to create more space for those behind them and getting onto the end of any balls played into the space between the defence and keeper.
Deeper in midfield Puel or Poullain would offer cover to an otherwise unprotected defence, while Hoddle, and then later Scifo, directed the play alongside them. He could play the ball directly into the feet of those ahead of him, into space for the full-backs on the wings or try a long ball over the top for the forwards.
Each of the strikers had different profiles, yet their place within the system didn't really alter. Hateley was a physically dominant target man whose head Hoddle could aim for, however Weah's strengths were in his speed and ability with the ball at his feet. When it became clear that Weah's creativity meant he might be more useful dropping off with the others in the centre, a more natural number nine in the mobile Diaz was brought in to lead the line ahead of him, allowing Weah to play one of the wide roles, and then a natural finisher in Klinsmann was also used later. Each one had different skills but they all used them to push back the defence and score goals in their own way.
The system wasn't identical to what we would later see at Arsenal, but it had clear parallels. Many players spoke of Wenger's confidence in his methods, yet he cut a far more nervous figure than he would do in England, smoking in the dug-out and shouting at his players. "The veins used to pop out of his head," Hateley said. "He was an absolute firebomb in the dressing room if he wasn't getting what he wanted." In the early stages of his coaching career, the Frenchman had yet to refine his self-control and was still looking to improve. "He was the first manager that I know that came and asked questions of the players," Hateley added. "Arsene didn't play at a high level and if you've got player that have played at the highest level, it's foolish not to ask advice… He was very raw."
He also didn't quite manage the same level of success he would later enjoy in England. They may have won the league in his first season, but the only other trophy Monaco won under Wenger was the 1991 Coupe de France – a late goal from Gerald Passi seeing them beat Marseille. Their bitter rivals dominated domestically, beating them in the 1989 final and for five years in the league, while Sampdoria beat them in the semi-finals of the 1990 Cup Winners' Cup and Werder Bremen did the same in the final two years later. Galatasaray knocked them out in Wenger's first foray in the European Cup following their league victory and Marseille's dominance meant they didn't get another opportunity until 1993-94, where eventual winners AC Milan knocked them out in the semi-final.
Nevertheless, the lack of trophies wasn't necessarily Wenger's fault. In 1993, it was discovered Marseille player Jean-Jacques Eydelie contacted three Valenciennes players on behalf of his board, asking them to go easy on the defending champions so they could wrap up their league victory early and better prepare for the inaugural Champions League final against Milan. Jacques Glassman went public and the attempted bribe resulted in Marseille being stripped of their 1994 title, getting relegated to the second division for two seasons and Tapie serving six months of a two year prison sentence.
Wenger had sensed the corruption beforehand: "I wanted to warn people, make it public, but I couldn't prove anything definitively," Wenger said in 2006. "At that time, corruption and doping were big things, and there was nothing worse than knowing the cards were stacked against us from the beginning."
"Look back now and you can't help but think we might have claimed at least two more league titles at Marseille's expense," Puel says. "He believes that too. It scarred Arsene. It scarred all of us." Bayern Munich wanted to take Wenger in the summer of 1994 but Monaco blocked the move, only to then start the season poorly and relieve the coach of his duties in September.
Feeling let down by his homeland, Wenger travelled half way around the world for his next job, ending up in Japan with Nagoya Grampus Eight.